Abstracts accepted beginning in March 2013.
29 exhibitor spaces
Sponsorship opportunities
Workshops
Field trips
Registration Options
Full, early (through July 31): $290
Full, late (starting August 1): $330
Student (with valid ID): $75
1-day (Thursday or Friday): $150
All 1-day and full registrations include lunch, proceedings, and AHS membership dues for 2014.
Our registration system will be online soon — check back again.
Doubletree by Hilton
520.881.4200
Group Code: AHS
70 rooms reserved at $90/night conference rate.
Click here to book online early and get the best rate.
Plenary Speakers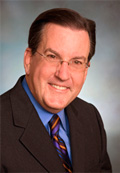 Grady Gammage, Jr., is a part-time academic, a practicing lawyer, an author, an occasional real estate developer, and a former elected official. In his academic role, Mr. Gammage is a Senior Fellow at ASU's Morrison Institute, where his work focuses on urban growth and development, quality of life, and local economic issues. He also teaches at the Sandra Day O'Connor College of Law and at the Herberger Institute of Design and the Arts. He served on the CAP board of directors for 12 years and was president during a period of turbulence when the CAP was suing the federal government over the cost of the canal. Mr. Gammage is the author of Phoenix in Perspective and numerous articles on land use and growth issues. His most recent publication, Watering the Sun Corridor, was issued by the Morrison Institute in August 2011.
Timothy M. Thomure, PE, PMP, is the Water Reuse Practice Lead for HDR Engineering. He has 20 years of experience working in public utilities, private industry, and consulting. His areas of expertise include water recycling, water supply, distribution systems, and strategic planning. Three research studies — including two conducted for the WateReuse Research Foundation — went to publication in 2013 under Tim's direction. He currently serves as a memnber of the National Board of the WateReuse Association, as the chair of the Reuse Committee for the Arizona Water Association, and as the president of WateReuse Arizona; he also chairs a statewide steering committee to guide implementation of recommendations on future indirect potable reuse from the Governor's Blue Ribbon Panel on Water Sustainability.